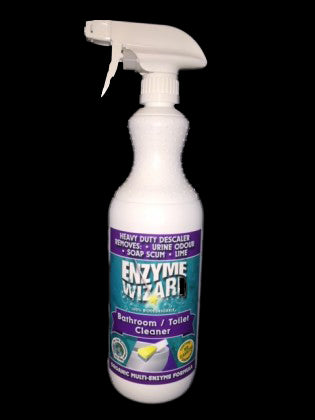 ENZYME WIZARD BATHROOM AND TOILET CLEANER SPRAY 1 LITRE EW7001
URINE ODOUR-SOAP SCUM-LIME-HEAVY DUTY DESCALER
-is a concentrated formula specifically blended for removal of organic matter.
-safely removes hard water and calcium deposits from all surfaces.
-has a rapid penetrating action that breaks down all organics by using an organic salt (Ca).
eliminates odors by destroying the source of the problem.
replaces the need of using bleach in a washroom / bathroom environment
GENTLE FOR ALLERGIES, ASTHMA & SKIN IRRITATIONS
Unique Multi function enzyme formula to break down all urine and organic matter inside toilet bowl
Contains no Caustic ingredients –No Chlorine/No Ammonia
Formula includes Citric acid that is designed to remove all calcium and hard water deposits in and around toilet
UNIQUE FOAMING ACTION TO ADHERE TO THE SURFACE
pH Neutral –Soap Free -Septic safe –No Palm Oil.
TO DOWNLOAD THE SDS USE THE FOLLOWING LINK 
https://www.enzymewizard.com.au/images/msds/GHS%20SDS%20Enzyme%20Wizard%20Bathroom-Toilet%20Cleaner.pdf