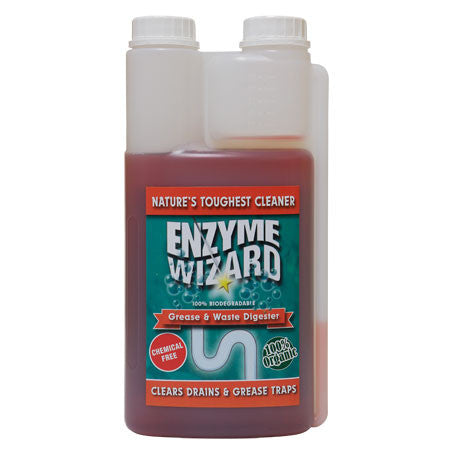 ENZYME WIZARD GREASE AND WASTE TWIN BOTTLE 1 LTRE RTU EW2001
Used in Drains / Grease traps / Beverage tower drain / Urinals & Commode.
pH Neutral does not damage the plumbing - does not generate heat therefore will not corrode plumbing.
DEODORIZES BY ATTACKING, BREAKING DOWN & FLUSHING AWAY THE SOURCE OF THE ODOUR IN THE PIPING
Solution is biodegradable and will break down in drains.
RECOMMENDED USES:
Restaurants
Commercial
Industrial
DIRECTIONS:
For best results, use at night or after hours. Grease trap should be pumped clear prior to initial treatment.
Drain Lines: Pour 120ml for slow drains and 240ml for stopped drains directly into drain. Use daily until drain likes are clear.
Grease Traps: Pour 120ml per 380L daily into drain closest to trap or directly into holding tanks. Initial Treatment: use 240ml per 380L
Beverage Towers: Pour 120ml into drain lines twice per week. Allow formula to work for five minutes. Flush drain with one litre of warm water.
Urinals and Commodes: Pour 120ml into problem drains twice per week for odour control.
DO NOT MIX WITH OTHER CLEANING PRODUCTS OR CHEMICALS:
USE THE LINK TO DOWNLOAD SDS
https://www.enzymewizard.com.au/images/msds/GHS%20SDS%20Enzyme%20Wizard%20Grease%20and%20Waste%20Digester.pdf