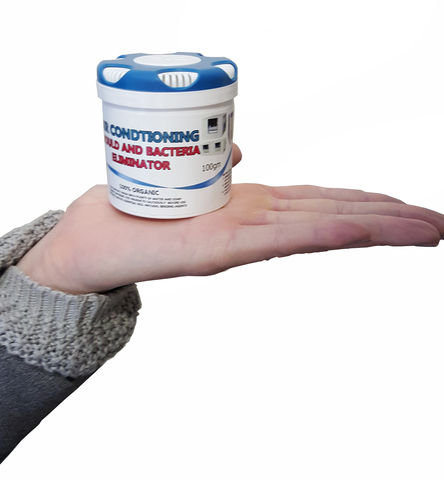 SAN13 SAN-AIR MOULD REMOVAL AIR CONDITIONING 100G
MOULD IN YOUR AIR-CONDITIONING IS HORRIBLE
If you turn your air-conditioning system on and it generates a horrendous smell, it is most likely a build up of mould and bacteria. Mould can from anywhere: all it takes is some moisture, oxygen, a mould spore and presto. Mould growth has begun. 
By using the 100gm air-conditioning mould remover, you will be able to ensure that you do not have a horrible smelling air-conditioning unit. It will remove mould and bacteria so that you are able to clean it easily and effectively. The product is a gel that evaporates into the air, enabling it to get into all the hard to reach places, ensuring that you get an effective clean. Just open the lid and enjoy cleaner air.   For mould removal
With no harmful or toxic chemicals, SAN-AIRtm is the safest mould removal product on the market. Proudly Australian made, with 100% natural active Australian ingredients SAN-AIRtm can lead you to a healthier, mould free, living environment.
PRODUCT DETAILS
Life time: 4 - 6 weeks once opened

Weight: 100 grams
Indoor Coverage:

1-2 jars for 100 - 200 square metres
3-6 jars for up to 350 square metres
TO DOWNLOAD THE SDS USE THE FOLLOWING LINK
TO DOWNLOAD RECOMMENCED USAGE RATE CHART USE THE FOLLOWING LINK 
 https://cdn.shopify.com/s/files/1/1854/7167/files/INFORMATION_SHEET_N1-dosage_rates_2011_rev1.pdf?14357505183386219355