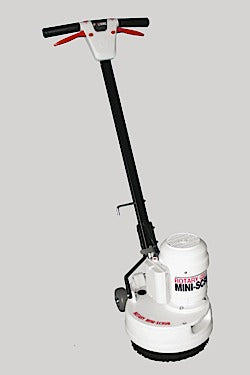 POLIVAC SCRUBBER NON SUCTION A23 30 CM
All-Australian designed and built mini scrubber.
0.56kw (0.75hp) 4 pole motor.
Brush speed - 187rpm.
Brush/pad size - 30cm (11.8") (Clutch System).
15 metre, heavy duty, rubber, flexible safety lead.
Height adjustable handle suits most operators.
Body - polypropylene. 
Oil-filled, sealed 'Polidrive' gearbox for exceptional long life.
Parts available all over Australia.
120 Distributors.
Warranty - 2 years on motor and gearbox. 1 year on parts.
NOTE: 110 volt motor also available.