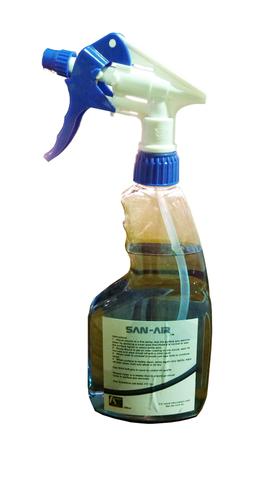 SAN-AIR MOULD REMOVAL COIL OR SURFACE CLEANER
CLEAN MOULD YOURSELF - SAFELY
SAN-AIR

tm

 Surface Mould Remover thoroughly cleans your air. It is able to remove Mould, Bacteria, and odors from your indoor environment. It is incredibly easy to use, and is 100% safe for your family and pets. All you need to do is simply spray it on any surface to remove mould. There is no need to pay for expensive mould cleaners, you are able to do your own mould removal.
GETS RID OF:
Mould and mildew
Remove spores so that the mould does not return
Remove bacteria from surfaces
SAFETY
This product uses
100% natural Australian essential oils
. This means that, unlike other cleaning products, it will not cause damage to your property when applied. It will safely remove the mould so that you can be stress free. 
Don't risk damaging your property with uncertain home made mould removers, get

 

the PROFESSIONAL CHOICE
Follow the instruction on the label to get maximum results.
INSTRUCTIONS:
Adjust nozzle to a fine spray, test the surface you want to clean by spraying a small area first.

 


(Note it is normal to see the surface lighter in colour while wet).
Spray to coat mould evenly, wait 15 minutes and wipe mould off with a clean dry cloth.
When cloth is covered in mould, commence use of a new cloth to continue cleaning.
When surface is visibly clean, wipe or rinse the treated surface with clean water.
Spray again with a fine mist and allow to air dry, leaving a fine mould prevention coating.
Repeat the clean a week later to ensure all mould roots in the surface are remove